Be sure to Pin this post on Pinterest to share it with your friends!
Love the look of Gymboree clothing, but hate the price? Me too! I don't know about you, but I just hate spending more on my kids clothing than I do on my own clothing…but Gymboree clothes are just so damn cute to resist! So I've put together a few tips on how you can save money on Gymboree clothing!
Tip #1: Gymboree Rewards Card 
Enjoy exclusive benefits by using your Gymboree Rewards card every time you shop. You'll earn 1 point for every $1 you spend at Gymboree, Gymboree.com and Gymboree Outlet. You can enroll for free just go to Gymboree Rewards Application. You can sign up so you can complete the enrollment if you don't have an account yet.
Member's Exclusive Benefits
Members only discounts, direct mail offers and events. Plus, early access to events & promotions
Free class pass plus $20 off enrollment at Gymboree Play & Music (for new members only)
$5 rewards certificate for every 250 points earned
To learn more about Gymboree Reward Card: Learn More
Tip #2: Subscribe to Parent's Magazine

This is probably my favorite tip, because it's super easy and saves me a ton of money! Parenting Magazine *usually* has a 20% off Gymboree coupon found somewhere in the pages. Now you can usually score a great deal on this magazine, for example it's only $9.97 on Amazon
right now. So you pay $10 bucks for a whole year of 20% off coupons! That's a steal right there!
Too cheap to buy the subscription, check your dentists or pediatrician's office or the local library. You may be able to snake one of those suckers right out of the magazine without anyone seeing ;)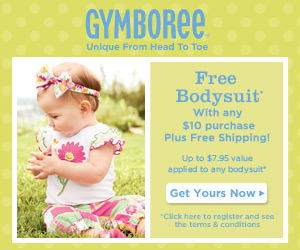 P.S. This FREE Gymboree Bodysuit offer is still going on right now!
Tip #3: Gymbucks
Several times a year, Gymboree offers the Gymbucks promotion: For every $50 spent at Gymboree retail stores, Gymboree.comor Gymboree Outlet during an earnings period, you will receive $25 worth of Gymbucks. Then once it's time to spend your Gymbucks you can use them towards any purchases you make. I love scouring the clearance racks with my Gymbucks in hand, that's really the best way to use Gymbucks!
Tip #4: Free Shipping
Gymboree offers free shipping on purchases of $75 or more. If that's too steep for you, then double up your order with a friend to get to the $75.00 threhold, or wait until the lower the shipping minimum. Oftentimes, Gymboree will offer FREE Shipping promos on the weekends or around holidays.
Tip # 5: Limited Time Promotions
Of course one of the best way to save is to hunt for bargains is around events. President's Day, Easter, July 4th and other holidays will usually prompt Gymboree to offer limited time savings of coupon codes ranging from 10-30% off.
Bonus Tip: Check your local Gymboree store. I usually find in-store sales happening that are NOT happening online and the clearance selection seems to be a lot better!
What are you favorite Gymboree bargain hunting tips? Leave us a comment!