Here are list of new coupons added to the Coupons Database.
Check them out for anything you'd like get during this week's shopping trip.
You can print 2 copies of each coupon per computer.

Remember that it's always better to buy what you need.

You can search for Deals for the items you need from

Sales Finder

You can search for Coupons for the items you need from

Coupon Finder
FEATURED COUPONS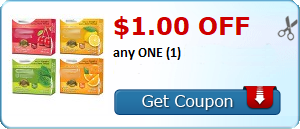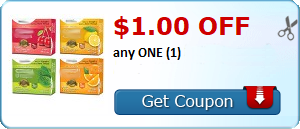 COUPONS.COM

$2.00 off ONE Dreft Detergent 50oz or larger
$1.00 off ONE Cellucor C4 Sport On The Go 4-Count
$1.00 off STELLA fresh mozzarella
$5.00 off one Zantac Product
$2.00 off One Cellucor Energy Powder from Cellucor
$1.00 off one Flintstones Multivitamin Product
$1.96 off any 6 Renuzit Adjustables
$3.00 off any one Cetaphil SPF moisturizer
$2.00 off any one Cetaphil product
$1.00 off any 2 Hartz Products

MySavings.com Coupons CPC
Friskies – BOGO FREE Cat Concoctions Coupon, Pay $0.24!
Hefty Slider Bags – $2 Off 3 Coupon, Pay Only $1 for All 3!
REDPLUM

SAVE $1.00 On any ONE (1) Pack of Pentel® Gel Pens, Pencils, Erasers or Lead

SAVING STAR

Save 20% on any single purchase of loose Corn at participating retailers. See offer info for complete details. Check back every Tuesday for a new Healthy Offer..Expires 8/8/2016.Save 20%.

SMART SOURCE (CANADA)

Save $2.00 when you buy any TWO Tide®, Gain®, Downy® OR Bounce® Products (excludes trial/travel size, value/gift/bonus packs)
Save $2.00 when you buy any ONE Pantene® Shampoo AND ONE Pantene® Conditioner, Styler or Treatment product (excludes trial/travel size, value/gift/bonus packs)

HOPSTER

Save $1.00 on any ONE (1) Saffron Road frozen product

IBOTTA

Earn $0.75 when you purchase Suja® Probiotic Water
Earn $0.50 when you purchase Honey Bunches of Oats® Granola
Earn $0.50 when you purchase Great Grains® Whole Grain Cereal
Earn $1.00 when you purchase Energizer MAX® Batteries
Earn $1.50 when you purchase Budweiser® Family AND Any Brand Ice
Earn $1.50 when you purchase Panera Bread® Mac & Cheese, Pasta or Chili
Earn $1.25 when you purchase Panera Bread® Soup
Earn $0.50 when you purchase Tiny Toast™ Cereal
Earn $10.00 when you purchase Spend $75 at Soma®
Earn $3.00 when you purchase Chloe Wine
Earn $0.75 when you purchase Tarn-X® Tarnish Remover
Earn $1.50 when you purchase LUNA® Bar
Earn $0.75 when you purchase Red Bull®
Earn $0.25 when you purchase LUNA® Bar
Earn $0.50 when you purchase Hidden Valley® Dips or Dressing Mixes
Earn $2.00 when you purchase Budweiser® OR Bud Light® AND Kingsford® Charcoal Combo
Earn $2.00 when you purchase Budweiser® OR Bud Light® AND Kingsford® Charcoal Combo
Earn $5.00 when you purchase Munchkin STEP™ Diaper Pail
Earn $0.50 when you purchase HOT POCKETS® Food Truck Bites
Earn $1.00 when you purchase Coca-Cola Products
Earn $5.00 when you purchase Goose Island® Family, Sabra® AND Stacy's® Pita Chips Combo
Earn $2.00 when you purchase Bud Light® OR Budweiser® AND Ruffles® Chips
Earn $2.00 when you purchase Depend®
Earn $1.00 when you purchase Suja® Organic
Earn $5.00 when you purchase Bud Light Lime® Rita or Splash Family AND Chambord® Liqueur
Earn $5.00 when you purchase Stella Artois® and Korbel® California Champagne
Earn $4.00 when you purchase Budweiser® OR Bud Light® AND Smithfield Ribs
Earn $3.00 when you purchase KC Masterpiece® BBQ Sauces or Marinades AND Smithfield Ribs
Earn $3.00 when you purchase Budweiser® OR Bud Light® AND KC Masterpiece® BBQ Sauces or Marinades
Earn $2.00 when you purchase Rainier® Pale Mountain Ale
Earn $1.50 when you purchase Rainier® Beer
Earn $0.50 when you purchase Wish-Bone® E.V.O.O. Dressing
Earn $0.75 when you purchase Saffron Road® Chicken Nuggets or Tenders
Earn $0.75 when you purchase Saffron Road® Frozen Entrées
Earn $0.75 when you purchase Mediterranean Snacks® Product
Earn $5.00 when you purchase Spend $60 at Famous Footwear
Earn $5.00 when you purchase Spend $60 at Famous Footwear
Earn $0.25 when you purchase Olive Garden® Seasoned Croutons
Earn $1.50 when you purchase KeVita® Master Brew Kombucha™
Earn $1.50 when you purchase KeVita® Sparkling Probiotic Drink
Earn $0.75 when you purchase KeVita® Master Brew Kombucha™
Earn $0.75 when you purchase KeVita® Sparkling Probiotic Drink
Earn $0.50 when you purchase Tropicana® Lemonades or Watermelon Beverages
Earn $1.00 when you purchase Chobani Mezé™ Dip
Earn $1.00 when you purchase Chobani Mezé™ Dip
Earn $1.00 when you purchase Chobani Mezé™ Dip
Earn $1.00 when you purchase Chobani Mezé™ Dip
Earn $0.50 when you purchase 18 Rabbits® Organic Granola and Granola Cereal
Earn $0.50 when you purchase 18 Rabbits® Jr. Organic Granola Bars
Earn $1.00 when you purchase 18 Rabbits® Organic Granola Bars