Join over 21,000 other moms & couponers on our Facebook page
to keep up with all of the latest deals & coupons!
Hi & welcome! I'm Chrystie V., an extreme couponer & pregnant momma due in April! I thought it might be a good idea to put together a roundup of legit freebies that I've taken advantage of in preparation for the baby!
Here's a full roundup of all the latest baby deals & coupons!
Formula Feeding Freebies:
Sign up for Similac Strong Moms and you will receive up to  $329 worth of coupons, samples and offers as well as weekly nutrition guidance and feeding help for every week of your pregnancy all the way through your baby's first year.
You'll receive a:
Free Similac Messenger Bag
Similac Coupons
Free Similac Formula
Weekly Pregnancy Journal
Similac Nourishing & Feeding Kit
$20 Shutterfly Birth Announcements Credit
Enfamil Family Beginnings: Sign up for Enfamil Family Beginnings newsletter and receive a $250 welcome kit which includes the items you see above, coupons and lots of advice.
Free samples of products from the Enfamil® Staged Nutrition line
Up to $60 in savings on Enfamil products
Monthly emails with expert advice and nutrition information for you and your baby – at every stage of development
These are both freebies worth signing up for even if you plan to breastfeed, because, honestly you never know what could happen after baby arrives and you may end up formula feeding after all!
---
Baby Gear Freebies:
If you are looking for some inexpensive baby gear, I've got a few deals for you on a baby sling, car seat canopy, nursing cover and nursing pillow. These items are all FREE when you use the provided coupon code, however, you do have to pay shipping which tends to be around $11.95 each. Even at $11.95 a piece, these are GREAT deals!
Udder cover Breastfeeding Cover Up (Use coupon code: BABYSAVINGS)
Baby Sling/Carrier (Use coupon code: ENBABY)
Carseat Canopy (Use coupon code: ENBABY)
Nursing Pillow (Use coupon code: MYSAVINGS)
 FREE Cabinet Safety Latch Kit  – Sign up here to request a FREE Dram Baby Sliding lock latch for your cabinets from Home Made Simple.
---
Baby Food Freebies:
FREE Stage 4 Welcome Toddler Kit: Just fill out the info and you will receive your kit via snail mail. You will also get money saving coupons in your email! Last time, this came with a coupon for a completely free item!
Gerber Welcome Kit : Join Growing Up Gerber to receive coupons for baby food, a free informational booklet, and a free baby spoon.
---
Family Financial Freebies:
Having a child is about to do a number to your finances! LearnVest & Daily Worth both offer advice for women on creating a budget, planning for baby & saving money. It's a daily email, that surprisingly is a nice kick in the pants every now & then :)
LearnVest: FREE Baby BootCamp & Financial Planning Tool
Daily Worth: Financial Advice for Women
---
Reward Programs:
Pampers Gifts To Grow – Pampers Gifts to Grow is a great program to join if you are not cloth diapering. Each time you buy a package of Pampers diapers, you can input your unique code into your Pampers Gifts to Grow account. We also frequently have FREE codes on this blog, so check back often. With those points you can earn coupons and gift cards.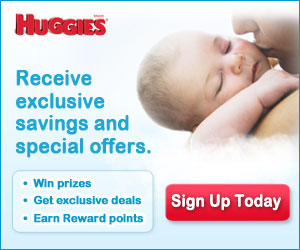 Huggies Rewards Program – If you are a Huggies Diaper user, then you will want to also sign up for Huggies Rewards, which operates very simliar to Pampers Gifts To Grow program. Although, we see less FREE point codes for the Huggies Reward programs.