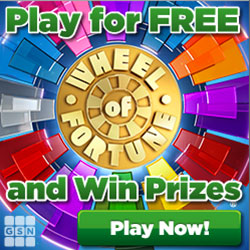 Just in case you are like me, home on a Friday night, in pajamas on the couch, under an electric blanket waiting for an impending storm, and looking for something to do…I wanted to let you know about the GSN Online Games that offer real cash prizes!
Now, Wheel of Fortune is MY game! Every night at 7:00pm, Pete and I sit on the couch and watch Wheel of Fortune, it's kind of our 'bonding' time…if, of course, bonding time included smack talking and fist pumping when we got the answers right! Let's just say..if Pete and I were ever on Wheel of Fortune that I would kick his butt! :)
On GSN, you can play a version of Wheel of Fortune and actually try to earn real money!
Good Luck!