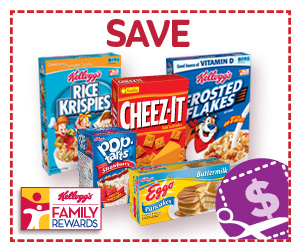 Click on the banner above to join & get access to exclusive Kellogg's coupons!
Wowzers! Did you know that Kellogg's has a rewards program. This is great news for my family because we love our Kellogg's products :)
Once you join, you'll be able to earn points by entering codes from Kellogg's products and earn awesome rewards! Within the first few days, you'll begin receiving emails with a variety of codes in it. Enter those codes to earn points and then use those points to 'buy' Kellogg's coupons!
You'll also have access to a selection of Kellogg's coupons like this $.50/1 Pop Tarts Oatmeal Delights coupon…which is way better than the $1/3 PopTarts coupon on Coupons.com right now!
Click on the banner above to join