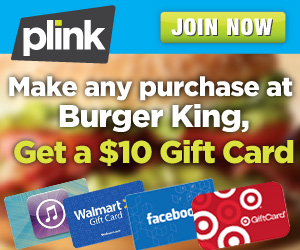 If you are planning to make a trip to Burger King this week…you are going to want to take advantage of this deal!
If you sign up for Plink today, and make any purchase at Burger King (perhaps to try the $.50 Ice Cream cone? :) by Sunday, 8/11 11:59 EST, Plink will give you 1,000 Plink Points – enough to redeem for a $10 Gift Card of your choice at places like Amazon.com, Target, Walmart, Kohls, Starbucks and more!
Plink is a program that rewards you for eating out& shopping . Essentially you sign up and hook up one of your credit or debit cards. Each time you make a purchase at one of the participating restaurants, with one of the cards, you will receive points!
This is a limited time offer, so sign up now and get over to Burger King to start earning points!