This is a Sponsored post written by me on behalf of White Cloud for SocialSpark. All opinions are 100% mine.
I have one of those daughters who loses things. Every morning when it's time to get ready for school…she cannot find her shoes. I swear it's every single morning. Today was one of those mornings, and despite how hard we looked…we could not find her shoes. I sent her to school in tap shoes #dontjudgeme It wasn't until I went outside on my lunch break did I find her shoes….her socks….her tee-shirt…and her bathing suit..outside in the yard! And in case you were wondering, no there were not not neatly folded in a pile…they were strewn about the lawn like a tornado had swept through our back yard! I picked up the sock…it was stiff. Literally stiff. I picked it up and it did not lose it's shape…and it was filthy. I thought to myself…this is the perfect opportunity to try out the White Cloud Laundry Detergent challenge.
I washed the sock in White Cloud Laundry Detergent Blooming Lavender scent (oh my gosh, it smells good!). I used hot water and washed it with other whites in the laundry. White Cloud boasts a 3-in-1 MicroClean Technology. As you can see above, the sock is significantly cleaner. I imagine had I used bleach the sock would be super bright, but because I wanted to test the truth effectiveness of the White Cloud, I did not use bleach.
The good news for those of you reading, is that you can do your own White Cloud Laundry Detergent challenge thanks to a coupon on Facebook! Once you are done, you can Like White Cloud on Facebook, Follow White Cloud on Twitter, or Follow White Cloud on Pinterest.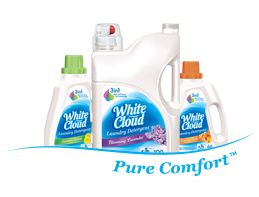 Disclaimer: Limit one coupon per purchase on product specified. No cash back if coupon value is higher than purchase price. Void if reproduced, transferred, used to purchase products for resale or where prohibited/regulated by law. Not valid on trial sizes. Consumer pays sales tax. Redeemable at participating retail stores. Valid only in the U.S
You can find White Cloud at Walmart and many other stores! Find out where with the Store Locator.